"The Entertainment Gathering (The EG) is the most incredible weekend gathering you've never heard of." —Tim Ferriss, FourHourWorkWeek​.com
The 2010 EG conference was held earlier this year from January 21 – 23, 2010 in Monterrey, CA. The EG is an annual event where the most innovative and influential names in entertainment production and development meets to share their ideas and vision for the future of the entertainment industry.
For the past three years the planners of the EG have looked to the team or design professionals at All Pop Art ® to create their artwork for their much talked about event program. Team  All Pop Art ® was sent photos of each speaker for the event with the task of creating illustrations that represented/expressed the speaker's personality and enthusiasm for their respective field.
We'll focus on the three designs that showcase the talent and creativity about at the  All Pop Art ® studios.
Today's entry will showcase three artist picked images that were created for this years EG gathering.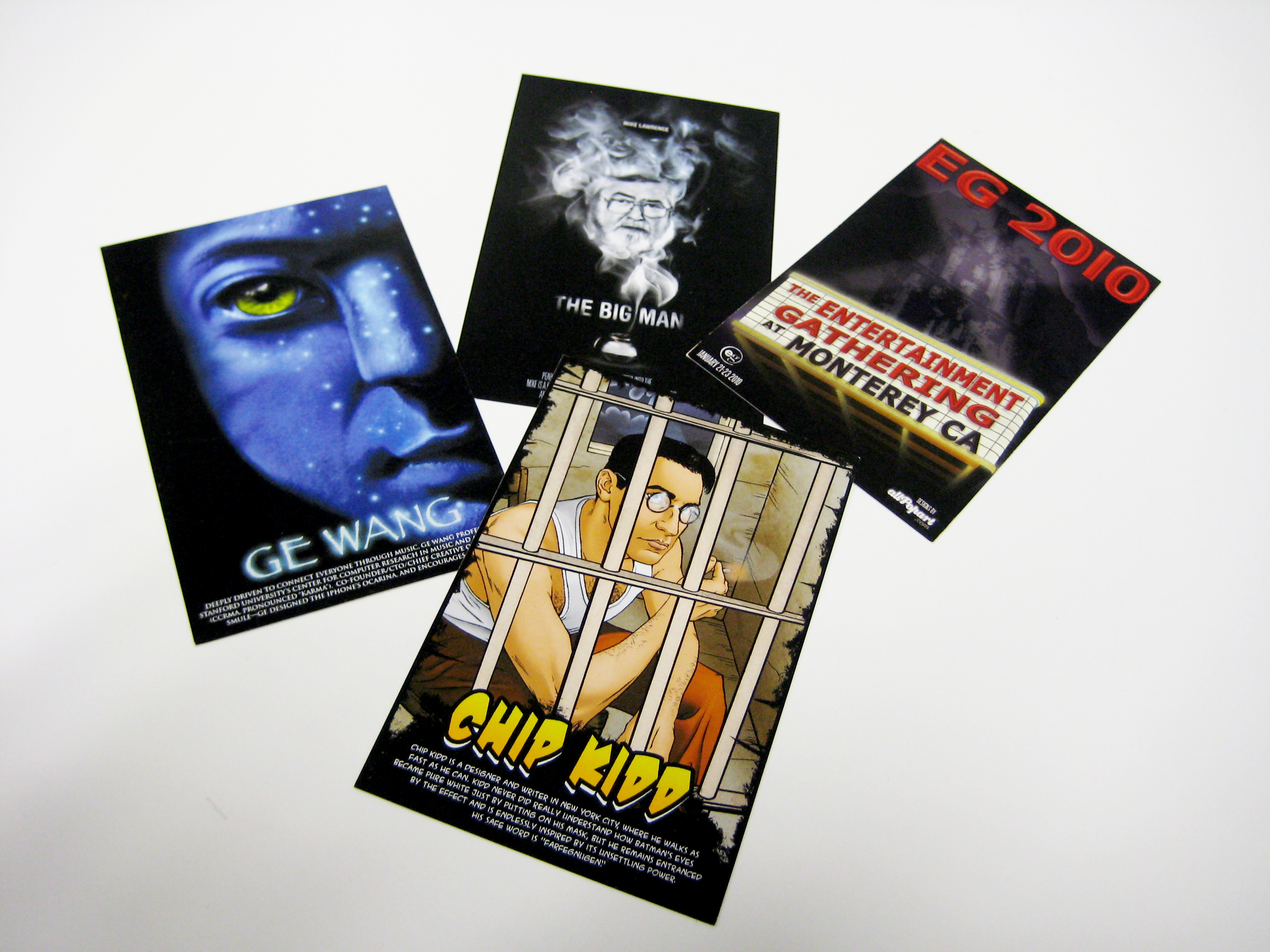 First we look at the piece for Chipp Kidd. Chipp is a New York Based designer and writer with a lifelong fascination with Batman. Our artist drew up a pencil sketch of Chipp which was scanned to a digital file, which was then cleaned and colorized using digital imagining software. The background was done next, and then the prison bars. The batman logo was the final touch.
The next piece was created for Mike Lawrence. Mike is a Documentary film maker who has been accepted into the Peabody conservatory. Mike's piece was based on the movie poster for the film "The Big Heart". Mikes photo was superimposed onto an existing image of where smoke with a fillh black background and opacity levels manipulated to create an Ethereal/ smoky effect.
Finally, we look at the piece for Stanford based professor and music researcher GE Wang. Ge's piece was based on the poster for the film Avatar®. Ge's original image was a portrait shot with rather dramatic lighting. Using D.I. software, our artist spent most of the time concentrating on GE's eye and nose to mold them to appear as similar as possible to the creatures featured in the blockbuster film. After this was achieved the artist focused on the texture and lighting effects of the skin. We think Ge looks quite other worldly.