Here we GO!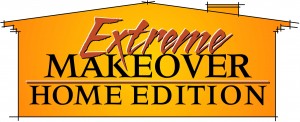 All Pop Art goes all the way to Suffield, CT to decorate a very special home. The new, renovated home of the Hill family!
The whole town was expectant to receive the Hills
Dozens of colorful portraits, in different colors and styles will be decorating their walls from now on. Aren't they beautiful? We are so happy we've got everyone talking about them!
We love Extreme Makeover Home Edition, they make the wildest dreams of many families true, by remodeling and renovating their houses, rooms and gardens. Making their houses be their home again. Is that magical?
All Pop Art was eager to cooperate with the Extreme Makeover-Home Edition team. The show will become the first ever television charitable organization. At the Studio, we are proud to say: we produce in a sustainable way, socially and ecologically. Therefore we did not want to miss out on this: being one of the companies that helps to perform the miracle of giving this deserving family a home. A home with art and decoration they will cherish for years to come! Hills enjoy our gift!
Why they chose us?
ABC's production was looking for professionalism, speed and perfect delivery. So they picked us! At All Pop Art we have a personal commitment with everyone of our customers. Our inside slogan is: WE LOVE OUR CUSTOMERS! Therefore the Extreme Makeover Home Edition staff got to live through what we call: "The All Pop Art Experience".
You may ask… so what is it!?
The All Pop Art Experience
The brand name of luxury canvas

&

prints at an affordable price.
Since the very beginning of your order, we contact you, and we review your photos one by one, guiding you through the process of becoming an Art Director. Because our products are completely handmade, no filters! Just artists at your service.
The Extreme Makeover Home Edition crew was able to see and modify as many times as they wanted (just like each one of our customers) their proofs, before getting a final print. Choosing the colors, adequate size, materials and other issues, is a simple task when you have a constant telephone, chat and email connected design and decor professional at your full service.
This is the All Pop Art experience. We are proud to say, we are the only company in the industry, that provides such a personalized customer service, throughout the whole process. 100% Satisfaction guaranteed.
Do you want to know what the Interior Designers at ABC chose?
These were some of the 23 designs that were donated to the show:
Get yours now! (and benefit from FREE SHIPPING!!!*)
Watch the All Pop Art portraits on the season premier of Extreme Makeover-Home Edition on Sunday, October 11th, at 8/7 c on ABC.
*Ground US Orders