Remember those lonely kitties in the street, wandering about where to take a little nap, when all pavement is wet… Nights are cold and lonely without a home to live in, for these cats.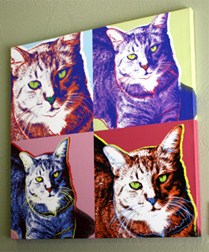 Haven't you ever said HOW CUTE! and then wanted to take one of those little feline critters home? –We would like to present you today a wonderful animal rescue in Arizona: Foothills Animal Rescue, who recently opened a beautiful new facility in North Scottsdale, setting an example of how successful a cage-free facility can be.
AllPopArt​.com has helped ModernCat, decorate one of their rooms with our renowned hand illustrated personalized portrait, in The Classic™ artistic style.
Check out the post at ModernCat now! Cute, huh? Make a donation like we did now!