This week we are pleased to introduce a new style of canvas to our lineup: the watercolor sketch portrait! It combines the wispy, architectural beauty of technical pencil sketches with the soft saturation of watercolors to create a unique (and always custom) portrait.
How it Works:
You've sifted through photo albums, finally found the perfect picture, and sent it to us. Now What?
- First it's placed in our resident artist Andreina Marquez's capable hands.
- Andreina has her BFA from the University of Malaga in Spain, where she's won several painting awards, and she'll put her expertise to work by creating a hand-drawn pencil sketch from your photo. She has been a member of the AllPopArt studio team since 2004.
- The sketch will then be layered and enhanced with a combination of traditional watercolors and digital brushes and washes, creating a new, vibrant, custom piece of art from your photo.
Sound good? Great. Here's what you'll need to do:
Getting Started:
The quality of your piece relies on our having a great photo to start from. Here are some things to look for when choosing yours:
- The best photos are close-ups or medium shots from the waist up.
- High-resolution photos are always the best, but the resolution becomes even more important the further away your subject is from the lens.
- We can use either a color photo, or black and white, but for without the original color to use as a guide, black and white photos will be made into portraits from analogous colors.
Options:
Before the Design is Determined:
Basic corrections like adjusting the contrast, saturation, and color hues of your original photo can easily be made beforehand to help you achieve the best final product. We can even eliminate part or all of the background at no additional charge.
After the Design is Finished:
Our goal is to create a portrait you're excited for while we're working, and thrilled to display when all's said and done. If getting there requires a little tweaking, that's fine by us.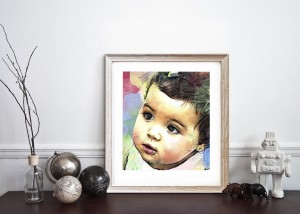 For no additional charge to you we can completely change the color tone of the overall portrait and/or partially or totally eliminate pencil lines and dots. More detailed modifications, including certain isolated color changes, will have to be considered by our artist and may incur additional charges.
The Final Look:
Our portraits can be printed and matted several different ways to achieve the best look for your space.
The portrait itself can be printed on either canvas or fine art paper, and then rolled (think posters), gallery wrapped (3-D with the canvas stretched over a wooden frame and secured in back), or framed in your choice of white, black, or a distressed, natural finish with a white wash.
The sharp, calligraphic lines of graphite can create a portrait with an edgy, urban feel, or, when combined with soft tints of watercolor, can create an antiqued, romantic feel perfect for wedding portraits, pet pictures and baby gifts. Happy giving!
Click here to watch how Andreina creates these pieces:
Sincerely,

.:. Ana .:. Co-Founder & Creative Thinker