If you're anything like us, 3 weeks and a handful of hours ago you made some resolutions.
Nothing crazy, mind you — it's all about managing expectations, of course. I mean, you still needed to challenge yourself, set the bar high and whatnot, but without getting too carried away. Which is why you resolved to be glorious.
Enviable.
The new Oprah.
How's that working out? Yeah, not for us, either.
But hey, Superman wasn't Superman without the Fortress of Solitude, and with a little creativity, you can kick off your new year with a home base fit for your imminent date with personal perfection.
First step: surrounding yourself with the people you love. Portraits of your kids, your wedding, or the furry family members who make you smile can instantly brighten a room and your outlook.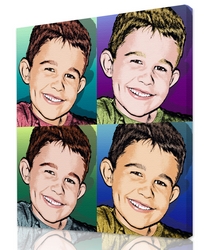 Every good super achiever needs a little help — a sidekick if you will — and we here at AllPopArt play an awesome second fiddle.
For every custom pop-art portrait we create, we rely on the collaboration of enthusiastic, take-charge, artist inspirers like you to create custom portraits and photo-to-canvases that make you glad to be home.
Simply choose your subject (kids, pets, boyfriends, girlfriends, and good friends make great muses), your favorite personalized art style (we've got tons!)
Then, let us do the work.
In just 3 to 5 business days 2011 will be looking better already.