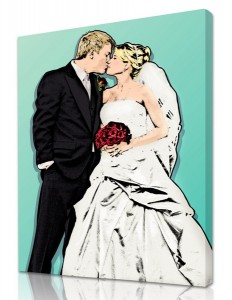 Maybe it was that diet book you bought her. Or the monogrammed man-purse you got him. Either way, you'd like it if last year's anniversary were never mentioned again.
Thankfully, a custom gift from AllPopArt is the perfect way to make sure you upstage your lackluster performance this time around and properly commemorate the anniversary of the best decision you ever made.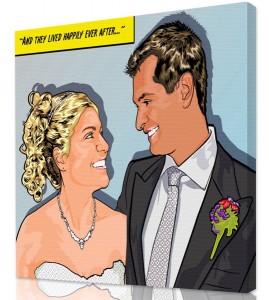 Just send us a photo the two of you love — (we've noticed 'madly-in-love-and-tan-on-our-honeymoon' tends to be a good look for most) and we can personalize it however you like.
Want a photo-quality canvas to hang as a statement piece above your bed? Try our Artist Touch™ or Photo to Canvas™ styles for Couples Portraits.
Think a fun, peppy, pop art portrait is more your style? Check out our classic Warhol style or get a comic book look with a design inspired by Lichtenstein.
Want to really surprise her with something softly romantic? AllPopArt's new Watercolor Sketch style makes wonderful memories into truly gorgeous works of art.
Now those are some great boyfriend gift ideas, huh? Oh wait, they are great girlfriend gift ideas too!
Surprise your significant other with an anniversary gift full of heart, love, and personality this year, and you *might* just have a shot at living down last year's mistake after all.
*Need more ideas? Check out our Couples Portraits Gallery.*