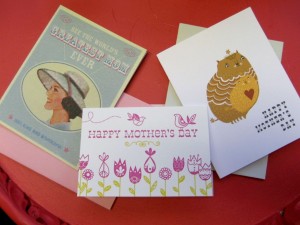 Well, it's that time of year again. Time to find that perfect card or gift to say "thank you for everything, Mom," where "everything" could mean:
having an endless supply of band aids and magic scrape-healing kisses
not ending my life when you found that turtle I was keeping as a pet in the bathroom
driving my homework to school every time I left it at home and subsequently freaked out in first period
talking dad into letting me stay out a little later on prom night
trusting me with a car even though we both knew that wasn't wise
treating me like an adult — even a friend — when I came home from college
helping me move all my stuff across the country for that first job
always, always, always having a place, a hug, and those kick-ass mashed potatoes you make waiting for me at home
No pressure.
It used to be that you could accomplish all of this with a macaroni necklace, but then again, you also used to be a lot cuter.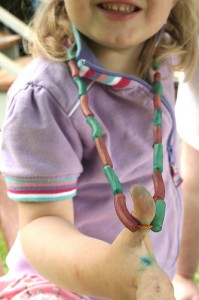 So, to help take the grief out of Mother's Day gifting, here are five creative, meaningful gift ideas to show mom you care:
Mom doesn't like technology, but she does like books. Help her into the 21st century with an

MP3

player pre-loaded with 100 classics books from Library of Classics.
She spends a lot of time out in the garden and those Crocs are starting to look pretty rough around the edges. Design a pair of classic, slip-on Keds just for her at Zazzle​.com.
Nothing says love like quality time. Get her a Netflix subscription and a handmade coupon for a weekly or monthly movie night. You supply dinner, she'll supply the Raisinete stash in her giant mom-purse.
A day of "mothering." It might take some convincing, but get her let you do mom-duty while she watches her favorite shows on the couch all day. You bring her snacks, do her dishes and laundry, ask her how her day was and mean it, and pick up her socks.
Something personal. If it's a portrait of her, the family, or the dog you sometimes suspect she loves more than you, we can help. Other great ideas might include digital picture frames that cycle through her photos, a pocket leather notebook filled with fond memories of all that she did for you growing up, or something as simple as a handwritten card offering her your full and generous thanks.
If that fails, we hear penne bracelets are making a comeback.
Happy Mother's Day gifting!
Love,
P.S. Need more ideas? We love the lists compiled by Gifts​.com where you can search by personality or celebrity mom. Check them out!
Photo credits: