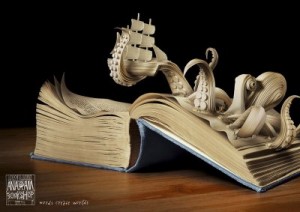 I don't know where you are, but where we are it's raining. A lot. "April Showers" a lot, even though we're supposed to be well into "May Flowers" season. So, being cooped up indoors, we've had some time to reexamine all our stuff and you know what? We've missed books.
You remember books – paper-bound, smell kind of musty and great, have a satisfying heft, conducive to dog-earing and margin-writing? We may have gotten caught up in the newness of Kindle this, and e-reader that, but books in their purest, simplest form, are truly something special. And it seems we're not the only ones who think so.
Here are some of the coolest, most inspiring book-related design items we've come across: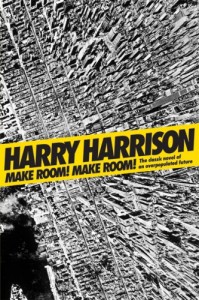 Cover Art. Vinyl-album-covers-as-décor have gotten to be about as ubiquitous as "Keep Calm and Carry On" posters in trendy apartments, but what about books? Cover art is one of the most interesting, expressive design forms there is and now that we've stumbled upon The Book Cover Archive, we're a little obsessed.
*Cover Creations: Using this great little box of Postcards from Penguin, we covered 3/4 of a formerly boring wall with classic book jackets.
Sit Lit. Listen up, all you eco-friendly bibliophiles out there, because this idea is for you. Instead of getting rid of those mass market paperbacks you no longer want on your shelf, why not recycle them into functional, one-of-a-kind furniture? We at Allpopart are into sustainable design and with projects like designer Laura Cahill's book bench and lit lamp, you can go green while you save some green.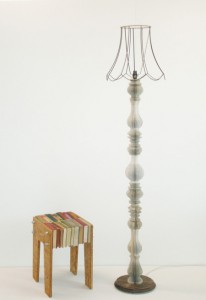 *Word to the Wise: the lit lamp is about a "I will throw a baby shower just like Martha Stewart!" on the ambition scale and requires a band saw.
Getting into Character. Few personal artifacts carry the same nostalgia as comic books. Peel back the cover of one and you're immediately absorbed, remembering how your heart raced as a kid as the hero was ambushed in a dark alley, or the damsel shrieked in distress. We miss that feeling and we love the idea of having a little fun with the serious business of superherodom. Whether you blow up those great, onomatopoetic word bubbles like "Bang!" and "Pow!" for some wall art, or have fun with one of our own whimsical "In Character" portraits, superheroes have some super style.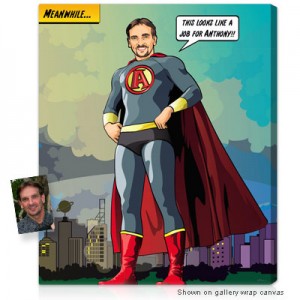 Happy reading!