Pictures are worth a thousand words
Photographs are used for many different purposes; memories being the top reason, but they are also used to represent the things you love: friends, family, scenery… These are all things you want to hold onto for a long time.
Putting your photos to canvas is a newer, great way to cherish these images forever.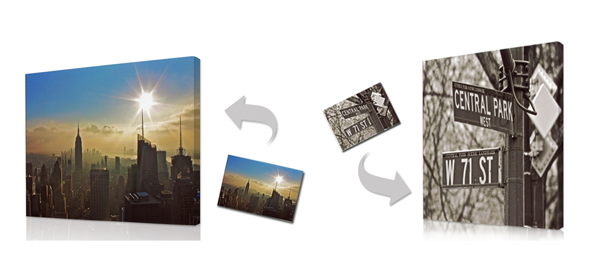 Here are 5 great reasons to put your photo to canvas
1. Long life:
The canvas material we use is the highest quality available in the US. It's a museum-grade, 100% cotton with a satin finish and invisible UV proof filters. The double-weave material adds texture to the overall look and allows for better framing without edge cracking. The canvas has been tested to last up to 200 years! Therefore, your image can be enjoyed by you and generations to follow
2. HP Vivera Inks:  We use True to Life ColorsTM with HP Vivera Inks. These inks are made from superior ingredients that are pure and free of harmful contaminants, ensuring optimal reliability and performance. Plus, they look amazing on the canvas!
3. Framing Options: We offer multiple framing and mounting options to make sure the portrait will fit your home or office. The gallery wrap stretched canvas is the most popular since we wrap the canvas over premium ¾" or 1.5" wood bars for a beautiful, contemporary look without a frame. This makes your piece look like it's hanging in a museum. Our other framing options include a metallic silver frame, a black wood frame (1.6" or 1.2" wide), and even an acrylic option.
4. Depth: By selecting the stretched canvas or even one of the other framing options, you are adding more dimension to the portrait. Anything printed on paper is going to look flat. With the canvas material and double weave texture, the image has a bit of depth to make it come to life.
5. Versatility: A canvas print can fit into any room and any décor. It can make for an elegant piece for your office or for a fun casual fit for your dorm room. You can put your family photo to canvas and hang it in your living room. Or, you can fill up your guest room with images of great scenery pics. There's really no end to what you can do and use by turning your photos to art.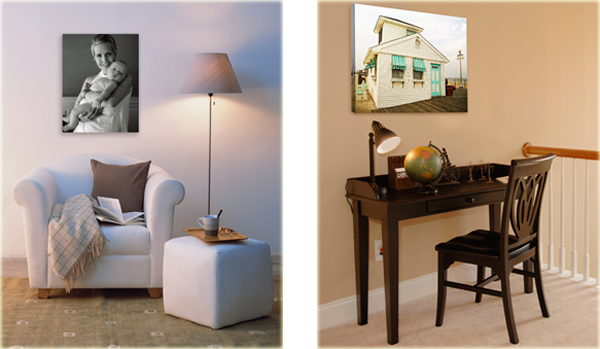 These are just 5 great reasons to put your photos to canvas. If you are looking at doing more, then check out our stylized options here: AllPopArt.
Do you have any tips or stories about canvas portraits that you would like to share.