The new iPad
Yes, Apple has made headlining news yet again with the release of their most recent iPad! This new iPad goes simply by the name "The new iPad" and can be pre-ordered today, before it goes on shelves starting March 16th.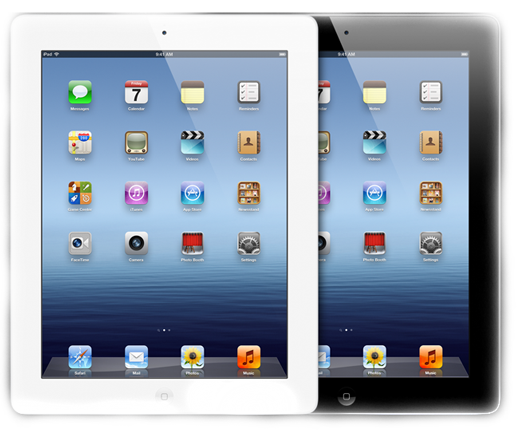 Starting at $499.00, this new tablet has the same features as before, just a little more to offer. These features include the Retina display, the 5MP iSight camera, ultrafast 4G LTE, plus iLife and iWork for iPad.
The Retina display makes everything come to live even more with the crisper look it offers. The 3.1 million pixels powered by the new A5X allows razor sharp text and more vibrant colors making the photos and videos much more rich in detail. If you are like me, you have no idea what an A5X card is, but no worries, I have learned and I can explain: It's a chip that drives/supports the pixels. The pixels are basically tiny little dots of color that make up an image, the more there are, the more detail and clearness is seen. This new A5X supports four times as many pixels as the iPad 2.
The 5MP iSight camera is a dream come true. If you have an iPad, you know the images look great on the tablet, on the phone and when it's uploaded to Facebook. But when you pull that image and put it on a big screen, as you zoom in you can see the graininess slowly appear! With a 5 megapixel (5MP) camera, the graininess doesn't appear! Plus, the camera offers HD video recording at 1080p, meaning a lot of pixels!
The 4G LTE is the latest in wireless technology. It allows you to connect to faster and more networks which means you can get online almost anywhere. And we're not talking dialup networks, we're talking the fastest networks available making it easier for you download and stream right from your iPad… this means less loading bars! Whoo-hoo.
The iLife and iWork apps are just a couple of the 200,000 apps from the App Store that more your tablet more fun to use! Plus, they are used for work, education, and planning! Making your life easier on the go!
Now, its time for you to get your order in today, use the awesome new features to take awesome new pictures that we can turn into awesome portraits
What do you think of the new iPad? Would you get one or trade your old one in?
Information, images and video courtesy: APPLE