We love pets! So much we even have a style dedicated to them (the PetGlo Style :))
Most of us here at AllPopArt have some pets of our own, each with a unique personality (just like each of us
). We are always sharing stories about our crazy furry family members during break times at the office.
[scrollGallery id=19] Here are some photos of our pets!
In addition to each of us dedicating a lot of time and effort into taking care of our crazy pets at home, we really enjoy doing what we can for all the other less fortunate animals. That is why each year we take part in helping animal rescue foundations find the funds and support they need to continue to help many animals. In many cases we make donations, anywhere from cash donations to gift certificates. It's a pleasure to help these animals connect with forever homes and help provide them with what they need.
My own dog is a 4 year old boxer who we just adopted about 5 months ago. If the local shelter had not received the funds and support, my "child" and I may never have found each other. Bullet is his name and he has the heart of a saint and the personality and energy of a 4 year old boy that just ate way too many cookies, and we love him for that!
Here's the big guy now in this custom pet portrait created here in the studio: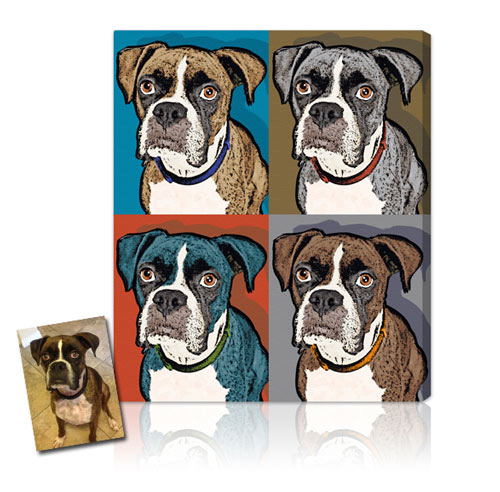 Plus, he's super spoiled. We cook his food for him every day, take him to the beach, the lake and the park as often as possible and he sleeps in my bed! He has taken on the nicknames "Little Moo Moo" and "Baby Cow" due to his size and awkward way he presents himself! Plus, he's always giving sloppy kisses! Who wouldn't love that?
If everyone felt as happy as I do when I come home and see Little Moo Moo with his butt shaking back and forth, drool running down his face and nothing but love to give, then the world would be a better place!
Therefore, I am very honored that here at AllPopArt we take causes seriously and are happy to help when we can.
Here is a list of just a few of the associations we were able to donate to over the past year. You should check them out as well or look into local foundations where you can lend a hand!
–Humane Society of Greater Miami Adopt a Pet
–Lab Rescue of L.R.C.P.
–Cats Pal
–Newfoundland Club of America
–Austin Pets Alive
–Cocker Spaniel Rescue of new England
–Forgotten Friends of Long Island
–Hope 4 Paws
–Animal Friends for Education and Welfare
–Nor Cal Weim Rescue
–Mylestone Equine Rescue
–In the Arms of Angels
Are there any events or associations you are already helping out? We'd love to hear your stories!