"I saw this, Mom, and thought of you. Happy Mother's Day!"
"Oh, hey, a bag of nuts and some orange soda. How…unique."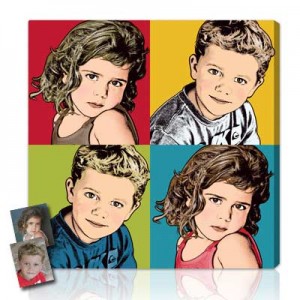 Mother's Day may still be a ways away, but don't put this off until the last second. Your mom's love may be unconditional, but her love of the gifts you pick up at the gas station on the way home is not. For a unique gift that your mom will treasure, look no further than the unique photo gifts at All Pop Art.
"Hmm, pop art is nice and all, but is it really appropriate for Mother's Day?" We're going to let you in on a little secret: Moms want pictures of their children. For some moms, the more pictures the better. And with a unique photo gift from All Pop Art, you throw some variety into her collection of images of you.
Plus, you're mom will be so proud to show off, say, a Warhol 4-panel style portrait as a unique gift of her favorite kid. She can hang it in her office and her coworkers will say "Wow, that's really impressive!" She will beam with pride and say "Yup, and so is my kid!" Or you can find an old photo from your childhood and use it for the Photo to Canvas artwork that mom will absolutely adore.
That's just for starters; there are many different styles from which to choose. The best part about photo gifts from AllPopArt is that they are unique. A plain ol' portrait, well, they're a dime-a-dozen, but All Pop Art's work is a work of art, and the subject is bound to be your mom's favorite.
If you have any questions or would like to see more of our fantastic styles, please feel free to contact us.