| | |
| --- | --- |
| | If you can't find an answer in the following FAQ's, please Contact us and we'll be more than happy to assist you. |
can I select my colors?
You can certainly tell us which colors you want us to use. You can even send us a photo of the room where you plan to hang it or even samples of the wall paint or upholstery fabric, so we can match the colors (our exact color matching service is provided for an additional fee). Otherwise, we will choose the colors for you that we think match better the photograph you sent to us. You will receive a preview of the design via email before we print, to make sure you are satisfied with the colors. We can revise the colors or your proof at no additional charge. If you don't have swatches to send but still would like to see exactly how the colors we picked will look we will be happy to send you a color matched proof on your selected material by mail for an additional fee.
Back to top
Where can I select my colors?
To view some of our available color schemes please click here. These are just some of the colors we have available. If you can't find your choice of colors, let us know and we will create a custom scheme based on your requests. We also have a large artwork gallery that shows many different color combinations we created over the years. We invite you to look at our samples and let us know your favorites as a reference to your color scheme, which will later on be personalized by the artist that will be working on your design. Don't worry about not knowing the right color combination. Our artists can select your colors, and we'll always make a design proof that you will be able to preview and request color changes to be made to it at no extra charge.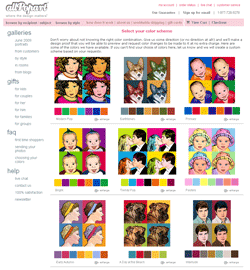 Back to top
What kind of backgrounds do you offer?
Many of our design styles offer the option of selecting a unique background. To view even more options please visit our backgrounds gallery by clicking here. All backgrounds are available in both horizontal and vertical layouts. You may ask to add text bubbles and customize the colors of any of our designs (some color changes may involve a small additional fee). Can't find what you are looking for? Let us know what kind of background you have in mind, our art team can create custom designs based on your requests.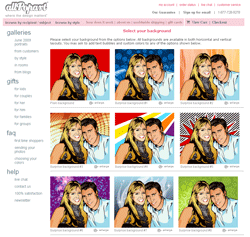 Back to top
can I order a custom size?
Sure! Our production process is located in-house and our professional production team will be happy to create your artwork in any custom size you may need. Just email us at info@allpopart.com with the size and framing or mounting option you prefer. Within one business day we will contact you with a quote and help you place your custom order.

Back to top
can I customize the text if the artwork has any?
Yes. When we say "personalized portraits" we mean it! You can decide if you want to include any text on the artwork or leave it without it. You can also tell us exactly what text to use, how many text bubbles to include and who will be saying it. We will add text to your artwork even if the style you selected usually doesn't include any text. You are always in complete control of your portrait.


Back to top
can I use my design for another piece?
Already have an allPopart design? That's great! Now you can order additional copies and different products without having to pay the full design fee again or at all. You can order an exact copy of your portrait or order it in a different size, material and framing or mounting options. Decided to redecorate and need a new color scheme? no problem! You can order a new copy of your artwork in a different color scheme and only pay a small design adjustment fee. We never get rid of your design, so even if you contact us years from now we will have your design on file.


Back to top
can you create custom designs according to my request?
Is there anything you were thinking about and is not available in the formats that we offer? Don't worry, that's ok. We have tried to limit the available options so it would be easier for you to order, but we are open to ALL proposals out there: ask us for custom designs, sizes, layout and anything else you you may need. Just drop us an email to info@allpopart.com . Within one business day we will contact you with a quote.


Back to top