| | |
| --- | --- |
| | If you can't find an answer in the following FAQ's, please Contact us and we'll be more than happy to assist you. |
which photos work best?
great photos: The following photos will work very well for any design style!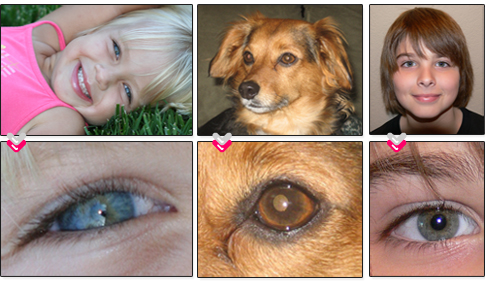 As you can see - all of the above photos are very sharp and in focus, the subject of the photo fills most of the frame. When we zoom in on these photos there is still a lot of detail in the eyes, which is important in order to allow our artists to create a beautiful detailed portrait. Your satisfaction is important to us and we put a lot of time and effort into creating your artwork. Please provide us with good photos so that we can make your portrait truly great.

The ideal picture is a headshot of the person, pet or a close up of the object. The photos that work best have the following characteristics:

- Sharp. Good photos are sharp and are in focus, blurry photos make it hard for us to see details in the subject.
- Good lighting, better when the light comes from the back of the photographer and it's facing the subject. Also, try to avoid dark shadows in the face of the subject.
We recommend that you will send us photos that were taken indoors - as photos taken outside tend to have contrasting shadows that don't yield nice results.
- Good contrast and brightness. Make sure the photo is not under exposed (too dark) or over exposed (too bright or too white).
- In order to make the best portrait out of your photo/s, we highly recommend that you send us a good quality picture, where the face of the person will be clear, big enough and close to the lense of the camera.
- If you want to have a "fun" portrait, we recommend you add some accessories (glasses, hats and earrings make great details in our pop art portraits)

If you prefer, you can email or send to us more than one photo and we will let you know which one works best for your portrait.


Acceptable photos: These following photos are ok.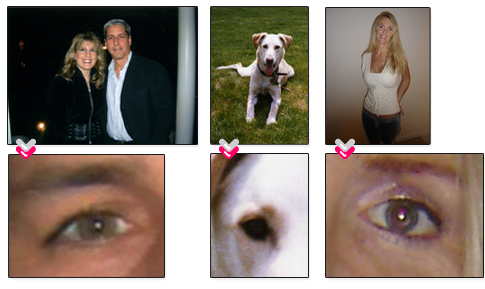 We can use them, but we will only be able to include as much detail as we can see. The subject is smaller in the frame, they are not in perfect focus and the detail in the eyes is not that great. Compare these to the good photos above and you will be able to see the difference.

Unsatisfactory photos: These following photos cannot be used for close up portraits.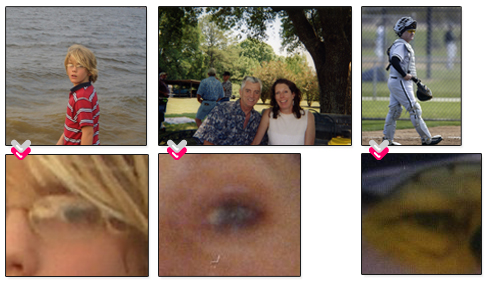 It is very hard to see any real detail in these images. They were taken from far away, and the subject is very small in the frame. While they make nice photos and memories, our artists will not be able to capture any details in the faces. We can use these images for action shots or full scenery portraits but we can't use them to create a close up head-shot portrait.


Back to top
where to send?
Choose your preferred method:

Upload digital photo/s from your allPopart account:
After you'll complete the checkout process you will be able to start uploading photos to your account. You can then select to use any of the uploaded photo/s for your order (You will be able include any design and color comments as well). After you select your photos you will still be able to keep uploading more photos for the order by visiting your My Account section and clicking on your order number. Once your photo/s are checked and put to process you will no longer be able to add new photo/s to the order, however you will still be able to add photo/s to your "My Photos" page and share them with family and friends online. Your file should not be smaller than 100 Kb and ideally, at least 500 kb big, and it can be in .jpg, .gif or .bmp format. We will always contact you by phone or Email within one business day of receiving your uploaded photo/s (after you place an order).

By Email:
You can email your photos to us at:photos@allpopart.com indicating your order number or your full name. Please send the original high resolution file of your photo. You will receive a confirmation email from us once we receive your photo/s. To read information and tips about which photos work best please click here.

By mail:
No digital photos? No problem. We can scan your photos for you at no additional charge. Just send them to us the following address and we will take care of it. Try to pack the photo so it won't bend (we recommend you put a rigid carton in the envelope, securing the photo.) As soon as we receive the photo/s, we will let you know by email or by phone. We regret we cannot be held responsible for lost photos in the mail. The address where you should send the photo/s to is:

allPopart.com
2590 Hollywood Blvd
Hollywood, FL 33020

Please include your order number and full name in your package.
To read information and tips about which photos work best please click here.

Once your photo/s is received we will notify you if the photo's quality is appropriate for the design you have selected. If we need a different photo, we will email you explaining the reasons why we can't use that photo and we'll request a different one. At this point your order can still be refunded entirely, as we have not started to work on your design. Once we start working on your design, the design fee will not be refunded.

Back to top
can I send a black & white photo?
Surely, you have an old photo you want to revive or that old time original you've been saving for this special occasion? No problem, we can work with either black and white or color photographs (No negatives please!). Keep in mind that you may be required to pay an additional fee in order to use a black & white photo for our lichStyle or descriptiveStyles (if you want to convert your photo to be colorful in these designs).


Back to top
do you return mailed photos?
Of course!, we are sure you want to keep your memories intact. We will return your photos along with your order and we will send them to you in the same condition that we received them. We regret that we cannot be held responsible for photos lost or damaged in the mail.


Back to top
can I see two proofs for two different photos and then select the one I like?
If you need design proofs for more than one photo, design charges for each photo will apply. The price of your artwork already includes one design fee - for one proof in your selected design style. Please keep in mind that all of our designs are hand illustrated by actual artists. Creating each design proof by hand takes several hours due to our high standards and attention to details.

Our qualified customer service & design consultants will be happy to discuss any questions or concerns and give you advice at no extra charge if you can't decide which photo to use or which design style will work best before you'll place your order. Once we approve your photo and we start working on it, we will not honor refunds for the design price and any request to change your photo or the design style will incur an additional design fee, as the work will already have been started. However, we will do as many modifications to the current design as you need at no charge.


Back to top